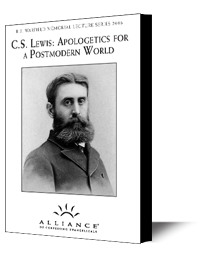 C.S. Lewis: Apologetics for a Postmodern World (CD set)
B.B. Warfield Memorial Lecture Series
C.S. Lewis articulated a vigorous apologetic at a crucial time in the 20th Century. Modernism had largely played out in western culture when Lewis defended Christianity to academia and the common person alike after World War II. Utilizing broadcast media and especially a prolific pen Lewis' unique apologetic works defy normal categories as he blended both reason and imagination together. These messages by Andrew Hoffecker examine his life and key works to discover how he could be called a "reasoning romantic."
The 4 messages of C.S. Lewis: Apologetics for a Postmodern World include:
"C.S. Lewis: A Life Surprised by Joy"
"Mere Christianity under Scrutiny"
"C.S. Lewis: Reasoning Romantic"
"A Reconsideration of Miracles"
SKU: SD-16BBW
Publisher: Alliance of Confessing Evangelicals
4 messages on 4 CDs
Tags: c.s. lewis